It's time for my absolute favorite post to make – my list of top ten favorite reads of 2017! I absolutely love seeing people's lists and I can't wait to share mine! These are the books that I read in 2017 but they may not have necessarily come out in 2017. These are also the books I read for the first time in 2017 so it doesn't include rereads. It's been a really fun reading year and it was difficult to narrow it down to just 10 from the 91 books I read but I managed to do it. Without further ado, here is my list, from number 10 to number 1!
10. If We Were Villains by M. L. Rio
Towards the end of the year, I was really in the mood for thrillers and this was one of my favorites, not really because of the thriller aspect but because of the pure atmosphere of the story. This story takes place in an arts college and follows a group of friends who are in the theater department and put on exclusively Shakespearean plays. It's not all fun and games though because there's MURDER. The atmosphere of this isolated and almost gothic-like arts college surrounds you the whole time you're reading and it feels very mysterious and fantastical. There are also lots of Shakespeare references throughout the book and far from sounding pretentious, it actually adds another layer to the story as you see how the story of the characters in the book overlaps with the story of Hamlet and other Shakespearean plays. The way the author weaves Shakespearean themes into the story is super interesting even though I'm not at all familiar with Shakespeare's stories. Although the plot itself was not anything very special, the way the author creates the atmosphere and immerses you fully into the setting makes for an incredible reading experience.
9. Chasing Forgiveness by Neal Shusterman
Neal Shusterman is one of my favorite authors of all time who wrote my favorite series of all time so it should be no surprise that he's on this list. This book is very different from the Unwind dystology though as it is a contemporary based on a true story about a boy who has to learn to forgive his father for murdering his mother. Definitely not an easy story to read about. I read it quite early in the year so I don't really remember much about it but I do remember that it had many profound things to say about forgiveness. Neal Shusterman has this incredible way of saying extremely profound things in such a simple manner. It was definitely not an easy read but ultimately a very beautiful one.
8. Replica by Lauren Oliver
This book is a sci-fi that has to do with clones but honestly, the beauty of this book is not in the plot but in the format. The story follows two characters, Lyra and Gemma, and you have the freedom to switch between perspectives anyway you like by flipping the book. I read 5 chapters at a time from each perspective and I found that it was such a unique and interesting format. The way the author managed to make each chapter in each perspective align perfectly was pure genius and I just have to admire the amount of thought that went into this. There are so many ways to experience this story because I think plot twists get revealed in different ways depending on how you choose to read the story. The story itself is not anything very special although I did get swept up in all the excitement and the shock of the plot twists as I was reading. Taking a step back though, I realize that the plot is not that great and that there are some issues in the book, such as fat-shaming and slut-shaming. Still, the unique format really made the reading experience enjoyable for me so I have to give it credit for that.
7. The Dinner by Herman Koch
At first read, this book doesn't seem to be very interesting at all. It follows a man and his wife as he sits down to dinner with his brother and sister-in-law. It feels very pretentious as the character describes his fancy dinner and as we listen to the empty talk of the rich. Yet as the story progresses, you realize that there is something very dark going on underneath the surface and the characters seem to be skirting around the actual reason for their dinner. Again, what's great about this story is the dark and chilling atmosphere that seems to permeate the story even as you read about appetizers and entrees. The pacing in this story is fantastically done because it starts off slow but quickly picks up speed until you reach the chilling reveal. Lots of people don't like this book for some reason but I found it absolutely fascinating and dark. It's a subtle kind of darkness though, one that gets under your skin without you even realizing it.
6. Big Little Lies by Liane Moriarty
This book has been making the rounds in 2017 due to the TV show. The synopsis makes it feel like a very Desperate Housewives-y kind of story but it's actually more fun than that. At the beginning, we find out that someone has been murdered at the local kindergarten's trivia night but we never find out who until the end of the book. Not knowing who the victim is is something I've never read in a thriller before and is an excellent way of piling on the mystery and suspense. The story then follows the preceding year and all the drama between the parents of the kindergarten kids. There are several possibilities of the murderer-victim pair but it's a guarantee that you'll never guess the right one. Aside from the suspense, the book is also quite funny and the characters are really lovable. It's rare to have likeable characters in an adult psychological thriller so this was really a breath of fresh air and just a fun time.
5. And Then There Were None
This year, I discovered Agatha Christie and she has quickly become one of my favorite authors of all time. In fact, spoiler alert, she appears twice on this list. This was the second book I read of hers and it was as twisty and mind-blowing as ever, although the reveal was not my favorite ever of hers. This follows the now classic story of 10 people on an island and them being murdered one by one. I love Agatha Christie because she doesn't waste time on gratuitous drama and just gets straight to the systematic laying out of clues and actual detecting that seems to be missing in thrillers nowadays. She is also able to create an eerie atmosphere that builds to a goosebump-inducing crescendo when the reveal is about to happen. I've learnt that I cannot read her final reveals at night when I'm alone because I just get chills and can't sleep for hours after that. Admittedly, I was a little bit let down by the reveal in this one because I had concocted a bunch of wild theories in my own head, although of course none of them made sense. This book differs from her other ones in that the actual progression of the plot is more interesting than the reveal itself, at least in my personal opinion. I still really enjoyed it though and can see why this is one of her most famous works.
4. Dark Matter by Blake Crouch
This one is a super mind-bendy sci-fi thriller about alternate universes and man oh man, it was a wild journey. It makes you think about all the choices you've ever made and all the possible universes out there that could exist had you done something differently. It totally messed me up and it is a special kind of horror chasing down alternate versions of reality. It was also a surprisingly beautiful love story across literal time and parallel universes, which I was definitely not expecting. An incredible read, but only if you're in the right frame of mind.
3. Light by Michael Grant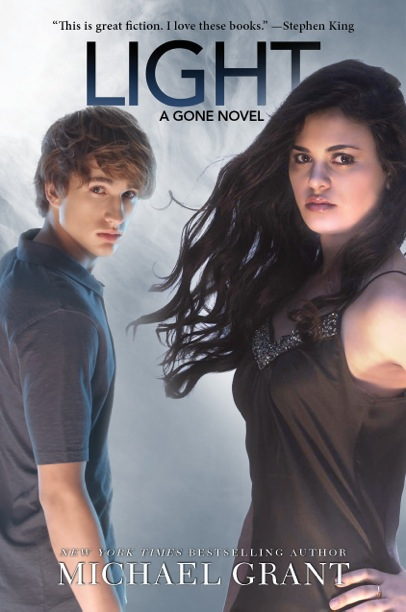 I had forgotten that 2017 was supposed to be the year of series for me. I had planned to marathon-read several series and only now are we getting to some of those in my favorites list. The Gone series by Michael Grant is a young adult post-apocalyptic series about what happens when one day, everyone over the age of 15 disappears. It was an incredibly fascinating look at how kids would try to rally themselves to survive and it was also one of the darkest things I've ever read. You can find my whole review of the series here. There are 6 books in the series and while I was reading, I didn't think I was really in love with the series. It was only when I got to the last book, Light, and when I finished the series that I realized how much the story impacted me. It was a painful journey seeing these characters suffer all kinds of tribulations and pain throughout all 6 books and I hadn't realized how much they grew on me and how much I wanted them to survive. It was incredibly dark and the positive moments were far too few in between. It's a whole saga and you really just feel like you went on this journey together with the characters. It's an investment but I think one that is worth it, if you're not too faint at heart.
2. Murder on the Orient Express by Agatha Christie
Hello again, Agatha Christie! MOTOE was my first ever Agatha Christie and it completely blew my mind. As I said earlier, I really enjoyed how she (or rather Hercule Poirot) lays out all the facts and clues systematically so that we can try to guess the murderer together with our protagonist. Of course, we aren't ever able to guess. It amazes me that although Agatha Christie is THE classic mystery writer and therefore her plot twists have been done to death by now (no pun intended), she still manages to shock me. What makes her an incredible mystery writer is definitely her ability to lay out red herrings and to steer you directly towards them and away from the actual solution until it's time for the final reveal. I'm continuously blown away by her writing and it definitely came at the right time for me, now that I'm unable to be blown away by recent thrillers anymore. She's made me fall back in love with my favorite genre so she deserves to be on this list twice.
1. Winter by Marissa Meyer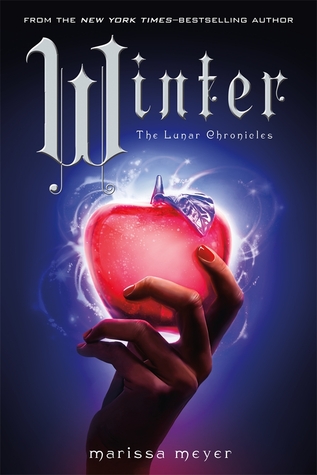 Number 1 and number 2 were really close but ultimately, I had to give it to Winter, the conclusion to The Lunar Chronicles. Honestly, we can just put the whole series in this spot. I had such a blast reading this series and it put such a huge smile on my face the entire time. This is a sci-fi fairytale retelling series and was so much fun. The plot was quite simple and not overly intricate but the biggest selling point for me was the characters. I fell completely in love with every single one of them, and with their relationships and friendships with one another and they just made me so happy. I don't tend to relate so strongly to characters in books as I do to characters in TV shows but trust you me, I loved these characters with all my heart. They are all so unique and incredible in different ways and their interactions with one another are just so lovely to read about. What do I have to do to be a part of the Rampion crew?? You can read more of my gushing in my review here, but this series has to take the cake for the sheer amount of joy it brought me.
And that's it! 2017 was a great reading year and I managed to expand my horizons somewhat in terms of the types of books I read and loved. Here's to hoping 2018 will be even better!
Cheers and happy reading!